Frozen / Dried Cranberries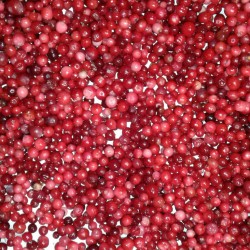 We offer frozen berries Carpathian cranberries. The fruit is harvested in an environmentally clean Carpathian region (Lviv, Ivano-Frankivsk and Zakarpattia region). Ukraine, making a low radiological indicators.
The property has frozen berries Class "A" Class "B" Class "C":
Class "A" – for the food industry and HoReCa sector Selected the best berry, which is cleaned mechanically and with the help of laser units from vegetable impurities, leaves, rotten and immature berries, and foreign bodies. All berries are ripe and available in kind with a characteristic odor, no herbal supplements, rotten, immature and foreign bodies. We guarantee a high level of quality control.
 Class "B" (semi) – for the processing industry.
The berries are cleaned mechanically and manually from vegetable impurities, leaves and foreign bodies. Allowed to 3% unripe berries, and leaves littered 0.5%. Products in this category may be used in the production of concentrated juice, puree or natural dyes, pharmaceutical purposes.
Class "C" (crude)
Berries are sold without pre-treatment. This berry contains clogged, leaves up to 3% to 5.10% unripe berries. Approximate annual sales of 40-60 TONS When asked customer manufacture all kinds of laboratory control in independent laboratories confirm the results certificates (radiology, heavy metals, pesticides, microbiology, etc). Products packed in cardboard boxes or 10 kg paper bags of 25 kg. Labels print on your requirement and sample. Finished product is stored in modern refrigeration chambers at a constant temperature range of – 18 ° C to – 22 ° C. Prices depend on the volume of purchased product, quality packaging and other factors. We are able to supply refined products to the customs territory of Europe in the amount of 3 tons. Also willing to consider individual orders for procurement and supply of specific, narrowly presented frozen and dried berries, mushrooms, mixtures and medicinal herbs. We offer long-term cooperation.